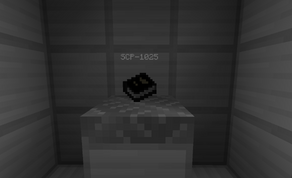 SCP-1025 is a hardcover book, approximately 1,500 pages long. The front cover and spine feature the title "The Encyclopedia of Common Diseases." The publisher's page indicates the book was printed in 19██ by █████ Press. No other copies of a book with that title and publisher have been found, and no record of the publisher exists. Readers of the book seem to exhibit symptoms of any disease they read about. The effect can take between █ and ██ hours to manifest.
SCP-1025 is a book. When read it will say a random effect. The player who read it will get this random effect.
This effect can be death.
Containment

Edit
All SCP items are to be stored in a 3x3 storage chamber.
Original Link

Edit
Ad blocker interference detected!
Wikia is a free-to-use site that makes money from advertising. We have a modified experience for viewers using ad blockers

Wikia is not accessible if you've made further modifications. Remove the custom ad blocker rule(s) and the page will load as expected.