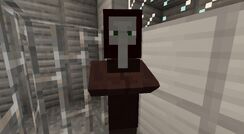 SCP0-049 humanoid in appearance, standing at 1.9 m tall and weighing 95.3 kg; however, the Foundation is currently incapable of studying its face and body more fully, as it is covered in what appears to be the garb of the traditional "Plague Doctor" from 15-16th century Europe.

Edit
SCP-049 is a creature who lazily uses the modified model of a villager.
He kills the player on contact, and may yet be coded to spawn a zombie because we are too lazy to do it now.
Original Link

Edit
Ad blocker interference detected!
Wikia is a free-to-use site that makes money from advertising. We have a modified experience for viewers using ad blockers

Wikia is not accessible if you've made further modifications. Remove the custom ad blocker rule(s) and the page will load as expected.